South Africa - Lying on the southern tip of Africa, this country is the most highly industrialized in all of Africa, and offers great natural beauty and geographical variety.
South Africa's great interior plateau consists mainly of rolling grasslands at 4,000 to 6,000 feet above sea level. Surrounding the plateau are a series of mountain ranges.
Travel north and you will find the southern fringes of the famous Kalahari Desert. To the west is the semi-arid Cape middleveld, which includes part of the Orange River.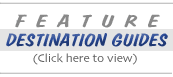 The region also includes considerable stretches of grassland in the east; mountains and the semi-arid Great and Little Karroo tablelands in the south; and desert (a southern extension of the Namib Desert) in the west. Kruger National Park is in NE South Africa.