Paraguay is tucked neatly into the interior of lower South America like a kidney. Dominated for decades by autocratic leaders and political uncertainty, Paraguay now boasts a fully democratic government, a growing economy, and an expanding visitor industry.
And that's good news because Paraguay has some of the most pristine natural areas on the continent.
Asuncion, the capital and largest city, was founded on the Feast Day of the Assumption in 1537 when the Spanish sailed up the Rio Paraguay looking for a way through to the gold in the Andes. Today, the town is a fascinating clutter of different building styles on the east bank of the river. Here you find banks, stores, museums, a botanical garden, a zoo, and remnants of the colonial days.
The Rio Paraguay splits the country into unequal eastern and western sections, both of which have eco-tourism destinations that are only beginning to develop.
The eastern part of Paraguay has national parks with tropical rainforests, dry tropical forests, and savannas. The southeastern border of the country is formed by the Rio Parana, which provides two amazing sites - one a natural phenomenon and the other one of the wonders of the modern world. Iguacu Falls is the most spectacular set of waterfalls in South America, and the Itaipu Dam, done jointly with Brazil, is the largest hydroelectric complex on earth.
Around Trinidad, in the middle of the eastern departments, are ruins of the reducciones, Jesuit missions that gathered tribal populations into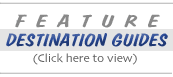 communes for education, conversion, and labor until they were expelled in 1767.
The western part of Paraguay is a vast plain, called the Chaco, that contains 60% of the land but only 5% of the population. This open space of scrub and palm forests hosts a biodiversity that only the remote Amazon can match and makes animal spotting much easier than the denser rainforests.
Rheas, jabiru storks, whistling ducks, hawks, and flamingos are a few of the avian species that appear in the Chaco.
Mammals show up in abundance, particularly around lagoons and bogs, where you might see alligators, capybara, foxes, wild boars, a variety of deer, and the larger cats. The tagua, a peccary long-thought extinct, was rediscovered here in 1975.
Tribal native groups - the Sanapana, Lengua, and Nivakle - live in the area, mostly on land protected by the government, and have made the sale of hand-crafted items a significant part of their livelihood. In the 1920s, German-speaking Mennonites established settlements in the Chaco that have since become the area's major towns. The juxtaposition of these groups is one of the great surprises of the territory.
Paraguay will not stay an undiscovered travel destination for long so don't hesitate to follow our leads to one of the best of the newest old places to visit.