Norway has great composers, innovative artists, famous actors, classic playwrights, trend-setting sculptors, and Noble Prize winning authors. But what they have most of all is some of the greatest, awe-inspiring scenery in the world - deep fjords with vertical walls kept green by the warmth of the Gulf Stream, high mountains with the largest glaciers in Europe. In the summer of the midnight sun, a crisp freshness in the air makes landscapes more clear and colors more pure.
Oslo, the capital, was founded in 1050, rebuilt in 1624, and remains the oldest capital city in Scandinavia. Here, you'll find Edvard Munch's The Scream in the National Gallery, Gustav Vigeland's statuary in Vigeland Park and the Vigeland Museum, the National Theatre where Henrik Ibsen's plays were performed, and more Munch in the Munch Museum.
Akershus Fortress and Castle were built at the turn of the 14th century and house the WWII Resistance Museum. In summer, the castle and fortress grounds provide venues for plays, concerts, and dances. Near Oslo is Thor Heyerdahl's Kon-tiki Museum with the original Kon-tiki boat and artifacts from Heyerdahl remarkable career.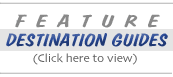 The train ride from Oslo to Bergen , on the west coast, is incredible. The scenery along the way may seem enough for the entire visit, but all advice says extend your trip out of Bergen by ship to see the majesty of the fjords, mountains, and waterfalls - this is the glory of Norway. You'll have many choices of ships and tour packages out of Bergen.
The superb, Olympic-quality downhill skiing of resort areas like Lillehammer, and thousands of miles of cross-country skiing trails make Norway a great place to be on the boards. Norway is also a premiere place for fishing, hiking, camping, sailing, and birdwatching. All of the best of the outdoors is yours in Norway.