Standing anywhere is Greece is having one foot in the past and the other ready to step onto the beach. The wine-dark Mediterranean sea of Homer still laps on the shores of the Greek Islands, even though it may vibrate some from the thudding discos on shore. Whether you want to sense the depth of Western history, dance into the rosy-fingered dawn, or just escape the accumulated dross of the office, Greece is your place.
Underneath Athen's smog you'll find the Acropolis, the Theatre of Dionysos, the Parthenon, the Agora, and the National Archeological Museum. Go north to Thessaly and the amazing monasteries of Meteora. Visit the ancient cities of the Peloponnese and the home of the Olympics.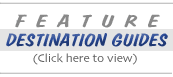 The Greek Islands today host revelries that would match any of the festivities surrounding the Trojan War. But there's always a place, many places, really, for peace and quiet on the bright white beaches of the 169 inhabited islands of Greece. Simple fishing villages and extravagant international resorts will give you the fullest range of choice in accommodations and activities.
Windsurfing, snorkeling, and yachting are big, and so are dissolving the afternoon or evening in a taverna sipping retsina or ouzo. Meet your culture quota by taking a seat in an ancient theatre and watching modern, multi-lingual drama or comedy. Mind your culinary responsibilities, too, and take your share of the moussaka, souvlaki, spanakopita, and baklava.